Bitmain's training service upgrading project 'Ant Training Academy' (ATA) made significant adjustments this year to ensure that participants worldwide can still be trained amid the global pandemic of COVID-19. ATA launched its online courses and has completed 16 online trainings courses so far, including 9 in Chinese and 7 in English, with more than 130 trainees participated, accounting for nearly 50% of the total number of trainees in 2020.
ATA is the only training institution and certification authority officially certified by Antminer. Based on years of knowledge dissemination and technology inheritance and accumulation, ATA offers optional maintenance training courses: onsite maintenance training and online maintenance training. Onsite maintenance training includes long-term courses (fundamentals of chip welding and miner maintenance training) and short-term courses (miner maintenance training only). Online maintenance training includes various training videos and documents, online trainer guidance, and Q&A.
Due to many participants being unable to attend onsite courses attributed to the pandemic, and with the growing urgency for maintenance training. ATA put together and developed high-standard online courses when the pandemic broke out and eventually came up with an explorative and practical solution as below:
The online maintenance training is composed of 3 phases. Material explanation, Q&A, and examinations are modules included in each phase. The duration for the online training course is 14 days, and trainees can arrange the online learning time flexibly with exceptions for the assessments.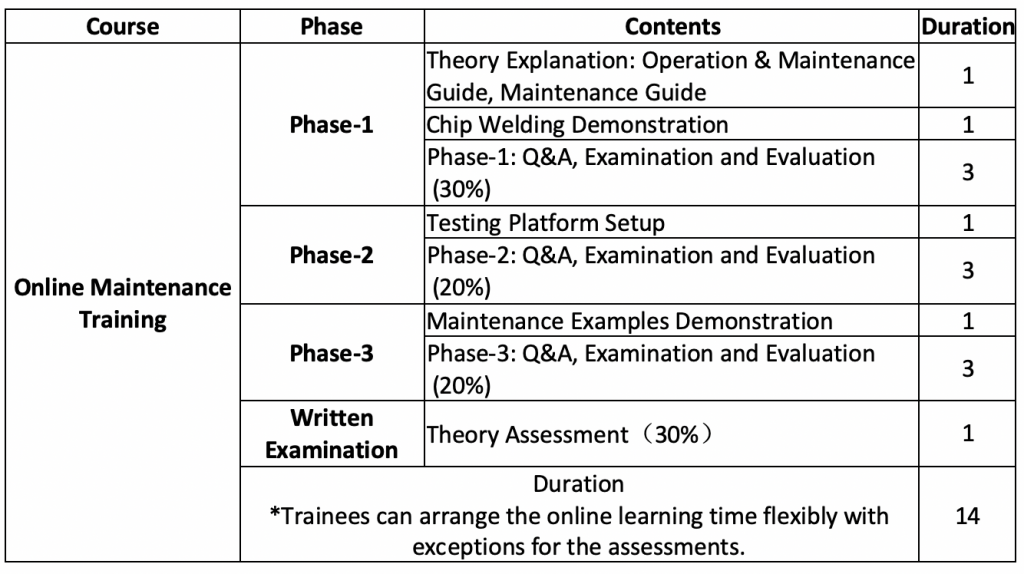 Assessment: 3-Phase Examination (70%) + Theory Assessment (30%)
The maintenance training courses are currently available for the Antminer 9, 17, and 19 series. For the trainees who apply for the online training course from Oct.1, 2020, to Dec.31, 2020, a $200 coupon for purchasing materials on our official website shall be issued. Skills come from practice, so ATA still suggests participants take onsite courses if possible so that they can learn better through hands-on experience and face-to-face guidance from professional instructors.
More information about ATA could be found:
Online courses – https://support.bitmain.com/hc/en-us/articles/900003141683
Onsite courses – https://support.bitmain.com/hc/en-us/articles/360015970014
As a global leading technology company, Bitmain takes customer experiences as a priority. As a strategic role of Bitmain services, ATA keeps upgrading and evolving and will continue to upgrade training courses as market needs, especially to empower our customers with the ability to maintain and repair their miners, hence to reduce the losses caused by miner failures.
---------------------
Liked this article? Share it with others:






Follow Us for Latest News & Articles: